Courses Taught:
English/Language Arts 9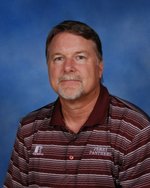 Mr. Cooley spent twenty years in manufacturing running machines for companies such as General Electric, Boeing, and Caterpillar Tractor. Interested in a career change, he decided to enter college for the first time and found he was very interested in education. He spent the next few years pursuing an education degree. He has been married to his wife Janet for twenty-six years. They spend a lot of time enjoying their four grandchildren. Mr. Cooley loves to read, sports, and music. He also plays acoustic guitar.
Our mission is to motivate, educate, and promote life-long learning.
Bachelor of Science in Middle Grades Education: Georgia State University
Masters Degree: Georgia Southwestern State University
ED.S in Curriculum and Instruction: Piedmont College